2018 Y3 Kids smart watch GPS + LBS + WIFI tracker GPS Watch
For easy setup and more understand about this gps watch, I have spent a lot of time writing this "setracker user manual" and "Q&A". Please take your time to read it, this is common questions from buyers, I think you will get your answer here. You can use "ctrl+F" function on your computer to search for a word.
Setracker user manual -- http://www.tabtab.com.my/pages/setracker-user-manual
Q&A for Y3 and Q50 -- http://www.tabtab.com.my/pages/qna-for-q50-and-y3
Please DO NOT use fast charging adapter to charge the watch, it cannot support 9V adapter.
Use normal 5V adapter or charge with computer USB port.
Why buy from us?
1. Our watches are Asia version, 100% can use in Malaysia. (google map, not using China baidu map)
2. I am aware that other seller selling at lower price, please beware of refurbished unit and china version.
- Our watches are 100% brand new and Asia version, can use in Malaysia.
3. A lot of customer ask for my help even the watch is not purchased from me, we regret that we won't provide any technical support to them. (different watch, different format)
- It is because they bought watch from irresponsible seller, and they don't have a team to backup them.
- It never happen to us! :) Why? Because we have our own product engineer and also have great support from the programmer.
If you are looking for best seller in Malaysia, proud to tell it's us! skhong/tabtab!!!
Attention!!! MAXIS SIM CARD GOT SIM PIN, PLEASE REMOVE SIM PIN FROM YOUR PHONE BEFORE INSERT INTO THE WATCH.
Charging time: Maximum 3 hours, don't charge overnight.
2017 Y3 GPS Trackers for Kids Child Smart GPS Watch Bracelet Wristband Positioning of Mobile Phone Anti-lost Personal Tracker

This watch tracker is Malaysia version, can use any Malaysia SIM card (postpaid/prepaid)
App and watch menu can be changed in the App (Chinese/English).
Important: Our watch customized with 12 hours format (only us in the world!!! -skhong/tabtab), other seller is 24 hours format!
In Malaysia, your child will not understand 24 hours format, like 16:00, 18:00 or 21:00
Note: This watch is using Micro SIM
Quick guide:
Note:
1. SIM card must have internet plan (It use less than 30MB/month, but you can use any data plan like 1GB, 3GB or 5GB) - SIM card must be call+data plan.
2. Remove SIM PIN (SIM card PIN number), if any.
Installation:
1. Download and install the APP (SE Tracker) - Android & iPhone.
2. Register account with the watch ID (reg code can be found at the back of the watch)
* IMPORTANT: Before register, please change the area/region to "Asia and Oceania" in the APP.
4. Login and setting the watch (go to settings and setting SOS number and phonebook, that's all).
5. Done!
For technical support, please whatsapp Mr.Sim 013-3666625 (please provide your watch ID to prove your purchase, otherwise we will ignore your message)
### Please DO NOT seek for my assistant if your watch is not bought from me, I cannot do anything if the watch ID is not belong to us.
- We always provide good support to our customer, all our customer are very happy with our service!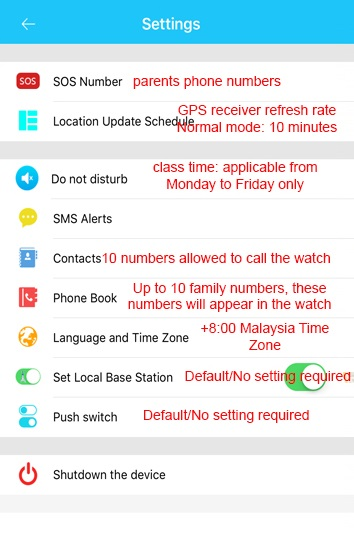 Please take note every (I mean in the world) kids watch tracker has weak GPS reception, and it must be under clear view of sky and open area, hence most of the time it will be tracked by LBS (Location based positioning).
But Y3 has WIFI function, this is the best solution for indoor positioning. (because watch cannot connect to satellites/GPS while in the building)
WIFI: It doesn't need to connect to the WIFI (with or without password protected) in around, it will just scan the WIFI MAC ADDRESS to locate the watch location.
Note: it needs to scan more than 2 available WIFI to locate. There's no problem even the WIFI with password protected like WEP, WPA2, etc..


Difference between LBS base station positioning and GPS positioning:
1. The positioning accuracy of GPS system can reach 10 to 20 meters,
2. mobile phone base station positioning accuracy of 50 meters to 2KM.
* Please take note, our watch tracker is not water proof/water resistant.
And there is NO water proof/water resistant watch tracker available in MALAYSIA yet.
Good to know:
- Once your kids wearing this watch, they cannot manually power off this watch, you can only shut down this watch by APK remote shutdown. (only when the watch is connected with your smart phone)
- You will get notification once the kids remove the watch
- You can track your kids sport status like heart rate.
Preparation before using
a.Check if the model is correct and all accessories are included.
b.Choose a SIM Card of GSM network. For details, please refer to the seller's advice. (Attention: Please shut down the watch before card installation)
c.SIM card terminals need to open GPRS and Caller ID function.
d.Install an Apk/ App into Smartphone. As for the Apk/ App. please download from APP store "SEtracker"
e.Optional Language: English / Chinese
Excellent advantages
1) WIFI + GPS +LBS (Base station positioning) Tri mode positioning
2) SOS function, two way communication
3) GEO fence
4) Anti-drop alarm
5) Low-battery alarm
6) Real time tracking
7) Tamper alarm
If the watchband is unbuckled after the watch has been on wrist for more than three minutes, the APP client will receive a warning message showing that the watch is taken off. You can disable this function when the product is put aside.
Main Functions and Parameters

1. Support GPS position
2. Support time display
3. Support calling
5. Support SOS help
6. history track record and playback
7. Electronic fence
8. Support to detect the heart rate
9. Support consult electrocardiogram


Product size :31*52*12.5mm
Package Size:45*32*125mm
Battery capacity:3.7v 400mA
GSM band:850MHZ/900MHZ/1800MHZ/1900MHZ
GPRS:Class1 2,TCP/IP Build in GSM MODULE
GSM/GPS:MTK6260/UBLOX7020
Max Speed:515m/s


GPS Precision:10m(2D RM)
Operating temperature:-20 to 70
Speed precision:0.1m/s
Volts:4V
Cold Start
Warm start
Hot start
Standby current
GPS sensitivity -159dBm

weight:150g

Dimensions:45.0(L)*32.0(W)*13.0(H)mm
Net Weight:35.1g
Gross Weight:128g

Packing:
Y3 Kids Smart Watch x 1
USB Cable x 1
User Manual

Warranty: 3 months local supplier warranty
How to insert SIM card:
Once again, if you bought the watch from other seller, please contact the seller and don't contact me. I am not technician/software engineer for other seller.
My watch ID is in our server, and other seller's watch ID is in their server, this is the reason I cannot help for the watch that you bought from other seller. Thanks.
For example, BMW service center will not provide service to TOYOTA vehicle.
For all my buyers, I am ready to help, all your problems will be solved, thank you for your support :)
Customer comments
| Author/Date | Rating | Comment |
| --- | --- | --- |
---